The engineering office Raupach Bruns Wolff was founded in October 2008 as a spin-off of the RWTH Aachen University.
We work on national and international projects with the focus on structural preservation.
Due to the close cooperation with the Institute for Building Research of the RWTH Aachen University (ibac) and other recognized research facilities and testing institutes, the cooperation in research projects as well as the activity in national and international standardization committees, we offer our clients highly qualified services in all fields of structural preservation, even for difficult tasks. These comprise structures made of reinforced and prestressed concrete, masonry, steel and wood as well as historical structures.
PROFILE   TEAM   TECHNICAL EQUIPMENT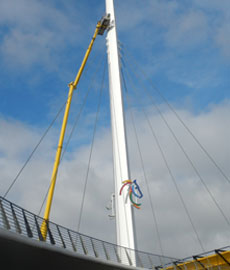 Structural maintenance and repair often require special expertise in the fields of building materials technology, damage mechanisms and condition assessment. Based on broad theoretical knowledge paired with many years of practical experience, we offer consulting, appraisal, construction material investigations as well as planning and monitoring services in almost all fields of structural preservation.
The partners and staff of the engineering office Raupach Bruns Wolff have recognized expertise in numerous areas of structural preservation thanks to their many years of experience, their participation in standardization bodies and technical committees, publications in national international media, their teaching and lecturing activities, and their involvement in research projects.
We would also be pleased to support you, whether you are a building owner, planner, construction company or product manufacturer, with our expertise.